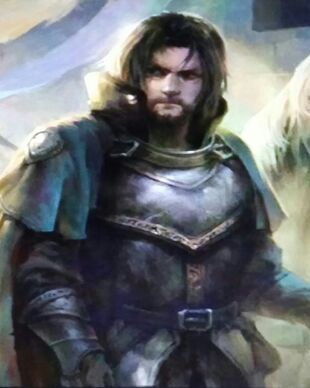 Edric Forrester is the heir to House Forrester.
History
Edric is the first born son of Lord Bryan Forrester and Lady Jayne Forrester, and the twin of Bethany Forrester. As a young boy, Edric showed he was a natural leader, he would be the one of his group of friends and siblings to make the plans for what games they would play in the grove, and what time they would need to go back home, and everyone listened to him.
Growing up in Ironrath, Edric had a privileged upbringing, though he often lacked appreciation for that. He was especially close to his half brother, Rickard Snow, and his twin sister Bethany.
In early adulthood, Bethany died of a fever, which brought home Rickard from the Wall, and created a large, and dark mark in Ironrath, as all of Ironrath seemed to grieve for the young lady.
In the years since, he has become increasing dissatisfied with his Father's rule.
Recent History
Eighth
Edric is working to undermine the Whitehills, who he believes to be a threat to the safety of House Forrester.
Family Members
Bryan Forrester, father
Jayne Forrester, mother
Bethany Forrester, sister (deceased)
Rickard Snow, half-brother
Sarra Forrester, sister
Cedrik Forrester, uncle
Tristan Forrester, Cousin