We're Getting Mutants in the MCU - The Loop
Play Sound
The High Septon is the leader of the Faith in Westeros. He resides at the Great Sept of Baelor in King's Landing.
The Jeweled One
Growing up in a small fishing village in near Oldstones, young Lucamore came from humble beginnings. He lived with his mother and grandmother who made ends meet as washerwomen for wayward fishing vessels or at an inn the next village over.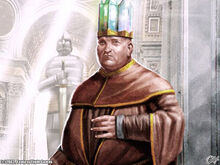 An only child, Lucamore was doted on endlessly, the women stooping to every whim and wish of their "little king." A pudgy, petulant boy, he was shunned by other youth his age who teased him over his weight, ragged clothes, and rumored bastardy. His mother refused to address the accusations but told her precious son that his father preached the word of the seven, walking in the light of the gods and, as his child, the world was his oyster for the taking.
And Lucamore did take. Nearly every hard-earned copper the women received was funneled into the growing boy's coinpurse, where it was soon spent on trinkets and toys, and later, decent wine, decadent meals, and tepid kisses offered by local whores.
This changed at the age of 18 when his grandmother passed away and his mother was killed during a particularly heinous Greyjoy reaving. With nowhere to go, a distaste for manual labor and no valuable skillsets to speak of, Lucamore suddenly felt compelled to serve the gods as his father had, entering a collective of traveling brown brothers, eventually working his way to a septry in Lannisport and then the Starry Sept in Oldtown.
Decades of masterful maneuvering and intrigue paid off most handsomely. Young Lucamore became the High Septon, known as the Jeweled One.
The Jeweled One had a tumultuous relationship with the throne after Damon Lannister became King in the first era. He annulled the marriage between Damon and Aeslyn Targaryen and freed Thaddius Lannister from his Kingsguard vows after bribing. He lusted openly after Queen Danae Targaryen and frequently used the King's Greyjoy heritage as proof of his faithlessness. After Rymar Royce informed him of Damon's false parentage, he threatened blackmail and was consequently he was murdered by Ghael the Tall, the Master of Whisperers for the Iron Throne.
The Young One
Septon Barth was chosen by Danae Targaryen to succeed the Jeweled One, at the dismay of the Most Devout, who were upset with the Crown's meddling in affairs of the Faith. Hailing from the Crownlands, he is described by Ghael as "ambitious enough to be useful and dim enough to be trusted."