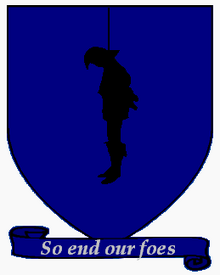 House Trant is a noble family from the stormlands. They are one of the principal houses sworn to Storm's End.
The seat of House Trant is Gallowsgrey. Their words are "So End Our Foes". They blazon their shields with azure, a hanged man, sable
Seat: Gallowsgrey
Gallowsgrey is located along the Boneway, in the Dornish Marches. It is made from dark grey stone, and is located along a large hill which overlooks the Boneway. Along the path up the mountain there used to be men hanged along parapets, however that has since been discontinued, and now they hang there simply as décor.
There is a small town located around Gallowsgrey, which is primarily focused on trade and craftswork.
Important Events
Prior to the First Era
House Trant has not been particularly lucky following the War of the Five Kings. Ser Meryn Trant, a brother of the Kingsguard, who had been loyal to Queen Cersei Lannister, refused to bend the knee to King Stannis, swearing loyalty to Queen Cersei. Thus, Ser Meryn was burned.
Notable Members
Borys Trant, Lord of Gallowsgrey
Merianne (nee Horpe) Trant, Lady of Gallowsgrey
Ser Brandon Trant, the first son of Lord Borys, heir to Gallowsgrey
Leana Trant (nee Penrose), wife of Brandon
Ser Corwyn Trant, second son of Lord Borys
Monfryd Trant, third son of Lord Borys
Ser Erwin Storm, fourth son of Lord Borys, a bastard
Ser Selwyn Trant, younger brother of Lord Borys