Luthor Rowan is the heir to Goldengrove and acting Lord of House Rowan.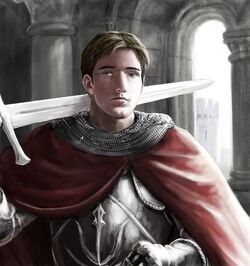 Lord Alester Rowan is head of the House but as he suffers from shaking sickness Luthor has had to don the titles and responsibilities

. 
History
Luthor Rowan was the second son of Alester Rowan, Lord of Goldengrove and Meredyth Rowan (née Ashford). He is the younger brother by two years of Thaddeus and older brother by five years to Marella Rowan. Thaddeus was taught to be a Lord; taught to act like a Lord, dress like a Lord and run the House while Luthor was rather free to do what he wanted. The Rowan's were famous horse breeders and so it was something that was rather obvious to turn to. Luthor quickly became a good horseman and a good swordsman though the latter didn't interest him often.
The War of the False King effected House Rowan majorly. Lord Alester was unable to fight because his illness was becoming worse and had escalated rather quickly the year prior. Thaddeus fought for his Liege, Gylen, along with some swordsmen from House Rowan that Lord Alester had reluctantly sent off to defend Oldtown from the Crown's oncoming army. This is where Thaddeus, Heir to Goldengrove perished. He perished when he was consumed by dragon fire on a boat in Oldtown's Harbour. Though it was hard to identify a body after and Meredyth denied until her death a few moons later that her eldest had perished.