The Sandman Will Keep You Awake - The Loop
Play Sound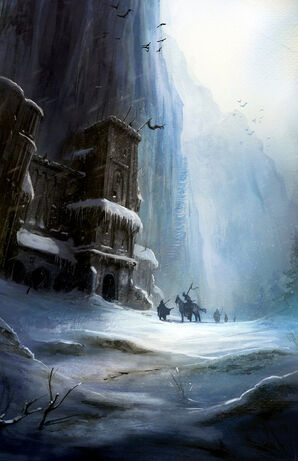 The Night's Watch is a military order dedicated to holding the Wall, the immense fortification on the northern border of the Seven Kingdoms, defending the realms of men from what lies beyond it. The order's foundation dates back to the Age of Heroes, at the time when the Others were pushed back. The men of Night's Watch wear only black, and they are known as black brothers.
Notable Members
Recent Lord Commanders
Brothers
Castle Black
Alekyne Spicer, a recruit.
Allor Snow, a builder.
Armond, a ranger.
Baelik Mormont, a ranger.
Bael Surefoot, the Lord-Commander's steward.
Balon Selmy, a steward.
Beric Storm, a recruit.

Brandon Snow

, a ranger.
Daryn Jordayne, Lord Steward
Gawen, a ranger.
Geoff, a cook.
Gregor, a blacksmith at Castle Black.
Grenn, an elderly steward.
Harrion Ryswell, First Builder
Harwyck, a ranger.
Kevan Myatt, First Ranger
Lorcan, Maester
Old Jon, an elderly ranger.
Ormund Dondarrion, Master-at-Arms
Pate, a ranger.
Rolan, a recruit.
Robert Snow, a ranger.
Robert Storm, a ranger.
Ryk, a ranger
Tyrion Swann, also known as Tyrion Longstrider, a recruiter for the watch.
Shadow Tower
Eastwatch
Nightfort
Former Brothers
Dywen, a ranger from the Shadow Tower. Died while attempting to kill Lord Commander Rheager II Targaryen.
Ser Joss Buckwell, commander at the Shadow Tower.
Rolf, a recruit at Castle Black. Died during a wildling attack while on a ranging.
Victarion Blacktyde, was Castle Black's Master-at-Arms prior to his death.