Jurassic World: Dominion Dominates Fandom Wikis - The Loop
Play Sound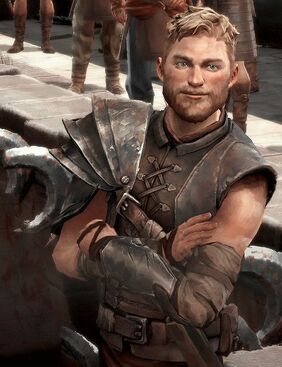 Tristan Forrester is the son of Brandon Forrester, the Sentinel to the Lord of Ironrath. His Uncles are Bryan Forrester and Cedrik Forrester.
History
Tristan was born in year 488 AC. He is the oldest of Brandon and Lyra Forrester's three children and the only son of the family. He grew up at Ironrath.
As soon as he could lift a sword his father had him train with Ironrath's Master-at-Arms in the art of swordplay. While skilled at arms, his castle upbringing has left him well-rounded.
Recent Events
Fourth Era
On the final year of the Fourth Era, Brandon Forrester asked his son to leave Ironrath to begin establishing trading agreements. At first Tristan was outspoken about not leaving but his father convinced him by saying he would only intrust this task to him and that its success was crucial to the long term health of the House.
Fifth Era
Tristan still under his fathers order travels to the different Northern cities in hopes of creating successful trade routes with Ironrath.
Sixth Era
Tristan returns to Ironrath on the request of his father. Once back he he became friends with some of the sellswords that were provided by the Whitehills.
Tristan's mother held a celebration for his twenty fifth name day. It was during this time that Brandon notices the political knowledge of his son. Tristan was able to mingle and be friendly with most of those in attendance.
Tristen, his sister Myra, and his cousin Sarra leave for the South. They take over the forging and production workshop that the family runs.
During their travels Tristan learns that his sister has fallen for a small folk, a simple farmer.
Eighth Era
Tristan is left to manage the forge and production workshop when Myra, her children, and Sarra return to Ironrath.
Family Members
Brandon Forrester, father
Lyra Forrester, mother
Myra Forrester, sister
Bryan Forrester, uncle 
Jayne Forrester, aunt
Edric Forrester, cousin
Bethany Forrester, cousin (deceased)
Rickard Snow, cousin 
Sarra Forrester, cousin
Olyvar Forrester, uncle (deceased)  
Cedrik Forrester, uncle